Home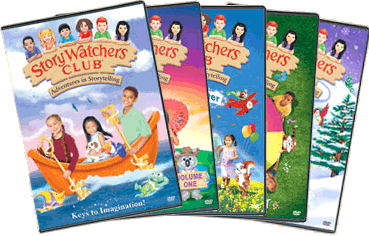 StoryWatchers Club™
Adventures in Storytelling
Series Overview
Multi-Award-Winning Children's DVD series.  Enter the StoryWatchers clubhouse as a collection of the nation's top professional storytellers bring their most amazing tales to life!  Special effects, animation, music, and a cast of multicultural clubhouse puppets humorously lead the way from one story to the next.
Children feel the magic and energy of each live, fun-filled, humorous performance right along with the kids in the studio audience!
Imparts to children the importance of using their imaginations, building listening and verbal skills, inspiring them to read and write, and exposing them to global cultures.
Appeals to parents who care about what their children watch – not only the entertainment value, but the educational value and wholesomeness as well.
StoryWatchers Club™
Keys to Imagination

Albert Einstein once said that imagination was more important than knowledge. With award-winning storytelling and wacky clubhouse adventures, join the StoryWatchers Club kids and discover how right Einstein was!

Buy This DVD Now

StoryWatchers Club™
World Folktales, Vol. 1


Join Cody, Kelly and the rest of the gang in the StoryWatchers Clubhouse as they explore and come to appreciate global cultures. And enjoy these phenomenal stories told by four of nation's most captivating and talented professional storytellers!

Buy This DVD Now

StoryWatchers Club™
Good Character

Have fun while understanding the importance of having good character right alongside our StoryWatchers Clubhouse gang as they learn some simple yet powerful lessons. And enjoy these stories by some of the nation's top professional storytellers!

Buy This DVD Now

StoryWatchers Club™
Our Planet

Learn to enjoy and appreciate nature with Cody, Kelly, Jordan, Juan, Tamayo, and Jada – the kids in the StoryWatchers clubhouse – as they take a fresh look at the world around them. And enjoy four enchanting storytellers as they take you on a journey around Our Planet!

Buy This DVD Now

StoryWatchers Club™
Christmas


Cody, Kelly, and the kids in the StoryWatchers clubhouse learn that Christmas is about more than receiving gifts. Their story is weaved around four amazing Christmas stories from four amazing storytellers!

Buy This DVD Now